SaniKing, Inc.
About Us:
SaniKing was started in 1994 by Sal Montes after 25 years working and managing sanitation for companies like Nabisco and Jays.
The company is now managed by his family since 2011.
We have serviced various industries including Fish processing (cured and smoked), Steak and beef products, Smoked Hams, Smoked sausage, Corned Beef and beef hamberger patty processing.
We are located in the Garfield Ridge/Clearing neighborhood near Midway Airport and service the Chicagoland area.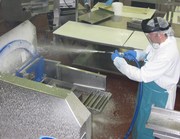 Proud Members of:
Contact