SaniKing, Inc.
Sanitation Services (USDA and FDA Inspected Operations)
At SaniKing, Inc., we provide customized solutions to your specific cleaning and sanitizing challenges. Whether it's a special blend, and early morning service call or night service call, we have the solutions you need.
Proven Process
With 17 years of providing service to our customers in food manufacturing plants covered by FDA, USDA and local Municipal Health Departments, we have a time proven process to guarantee results. Our process in combination with QA and Plant management will virtually eliminate chances for recall.
Saving You Money
We provide labor, chemicals and equipment to reduce operating costs associated with you sanitation operation.
This frees you to focus on what you do best without compromising food safety. By outsourcing your sanitation operations to us you control costs by reducing or eliminating labor, department, management and equipment costs.
Expert Workforce
Our expert associates are available as soon as your production cycle is over to initiate the following sanitation functions:
Protecting electrical and other water sensitive equipment.
Collecting debris and inedible product from the floor and machines.
First Rinse, Foaming, Scrubbing, Final Rinse and visual inspection.
If entirely clean after visual inspection, then the last step of sanitizing.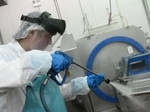 Expertise Through Training
We train our associates in-house annually in the follwing areas:
General Plant Safety
General Chemical Safety
Cleaning Process - SSOP
Any Specific Client related procedures.